If you are here on this page reading this article right now, it is safe to assume that you are quite serious about your health and fitness regime. The good news is we, at MyFitFuel, are serious about it too, which is why we come up with various tips and suggestions that would make your body better. Today, we are going to tell you, how to use a protein shaker correctly!

If you go to the gym regularly and are focused on building a great body, you must know by now how much important protein shakes are for your body.  The benefits are many – it helps in your metabolism,  in building a great body without consuming much food and are much more affordable! And today we tell you how exactly you should be using your protein shaker bottle.
What Is A Protein Shaker Bottle?
Protein shaker bottles are nothing but bottles where you can measure and mix protein powder along with water and milk. Though you can always put it in a glass and stir it with a spoon, it doesn't dissolve easily and hence leaves lumps. Trust me when I say this, as I have seen it from personal experience, however hard you stir, there are always lumps and at when you finish your shake you are bound to find lumps sitting at the bottom of your glass.
This also means that you are not having the prescribed amount of powder you should be having to gain muscles or weight. That is not something you would want, right? So the solution for this is a protein shaker bottle. The shaker bottles also come handy as you can measure how much whey protein to put in a shake. Moreover, these bottles can be used on the go, as they come with a top lid. They can be taken along while going to the gym and you can have it before or after a workout.
Similar Article: Whey Protein With Milk or Water
How To Use A Protein Shaker Bottle?
It is important to know how to use the protein shaker bottle correctly. You might be a beginner or a pro, it is never too late to learn. So here is a step by step guideline to help you make your protein shake right!
STEP 1: Protein powder dissolves best in milk but you can try water or juice as well. So the first step is to pour the liquid into the bottle. Before adding the liquid go through the instructions for a protein powder to find out the exact amount needed for the amount of protein powder you will be having. It is critical to add the liquid before the powder to avoid forming lumps.
Step 2: Next, get the scoop that comes with the protein powder and measures it, add it to the bottle of liquid. Remember how much whey protein is to be added depends on the kind of session you plan to have at the gym. If it is a light session one scoop would be enough if not 2 scoops should do it. However, our recommendation is to check with your doctor or fitness expert if you happen to talk to them and get their advice. The dose should not exceed recommended amounts.
Step 3: Now is the time to spice up your shake. Instead of making it bland, add fresh fruits, ice or even chocolate to the shake. Other nutritional supplement powders can also be added at this time.
Step 4: Put the lid back on the bottle. Close it and make sure it is in place and tight. Now is the time to do some shaking! Shake the bottle very hard as you move it up and down. Do this for at least 30 seconds for great results. The mixer in the bottle will break up the lumps and give you a uniform, creamy, milkshake.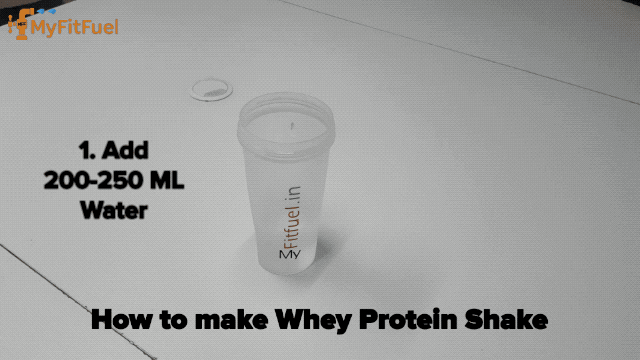 How To Choose The Right Blender Bottle?
It is always a big challenge to scour through thousands of products available in the market and find the one that suits you and your pocket.  When choosing the right bottle for yourself, keep in mind a few things.
What size blender bottle to buy?
Can the bottle be easily cleaned?
The size of the blender bottle largely depends on the amount you need for your body. The standard is a 500 ml bottle. Since most bottle have a mixer in there, it is necessary to clean it after every use to avoid moulds. Bottles with millilitre marking on them, makes it easy for the user to measure the liquid when pouring. Other features to lookout for are a sturdy and nice lid, that will avoid spilling, and high quality food compatible materials used to make the shaker.
MyFitFuel has a great product in this category that ticks all the checkboxes. Both the Classic Shaker and the All In One Shaker are made from food compatible products, are extremely user friendly and highly affordable. The lid has been made so that it is fully spill proof and the bottle itself is 100% leakproof. Which means you can take it on the go and carry it with you all the time. Absolutely perfect for those who have to take it several times a day. The All In One comes with 2 extra compartments, where you can store  extra powder or supplement tablets. As the name suggests, keeps everything in one place!
Have you been using your protein shaker bottle using all the steps mentioned here. If yes, you have been doing grat, if not, start right now.  Also, now that you know the pros of using a shaker bottle, it is wise to buy one instead of using a regular glass and spoon.  Do you agree?