Normally, people are of biased opinion that taking supplements is not good for health. They would stick to diet full of lean proteins, veggies and fruits, and complain for not getting the desired results despite regular training. Often tiredness, strained tissues, and mental fatigue is seen among such people.

Well, you can always include whey protein in your diet, let me tell you the reason why-
Whey protein constitutes 20 percent of proteins in cow's milk. With industrial processing and pasteurization, this very important protein is destroyed. It might not make any difference to the people who don't exert physically, but to those who regularly work out and perform intense training, the whey protein supplement is essential.
Whey protein plays a vital role in the following body development to-
Loose fats and preserve muscles
Increase muscular size and strength
Control hunger
Manage stress
Improve immunity
Similar Article: 10 Benefits about Whey Protein you didn't know
How to use Whey Protein?
It is very important to understand the proper usage of proteins to get the maximum benefits. Whey protein usually comes in powdered form and you can mix the whey powder in milk or water.
Many of us wonder as how to use whey protein properly. So, instead of stirring the powder manually, it is better to blend the whey protein powder with the water or milk in the proportion suggested by your fitness expert.
Whey protein is suitable for all the three aspects of our physique- i.e. to retain mass, to gain mass, and to loose mass. It basically depends on the time and quantity you are taking the whey protein.
Let's take a look at how to use whey protein. But before, to understand your body's protein requirement, please visit this URL.
And for the whey protein shake recipe- follow these steps!
Similar Article: Whey Protein With Milk or Water
Step 1: Take 250 ml water or milk in a shaker or blender
Step 2: Mix 1 scoop (32 grams) of whey protein powder
Step 3: Shake well or blend
Whoa! It's ready to drink!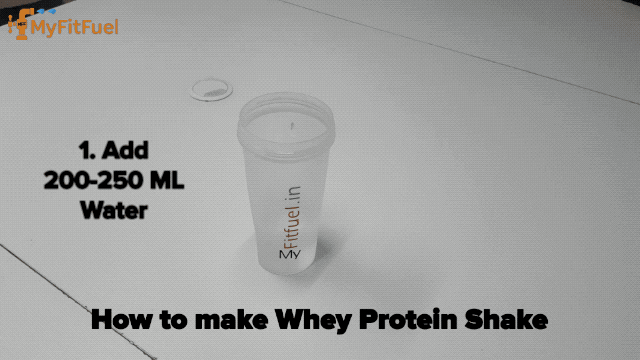 How to use Whey Protein Powder to Gain Muscle
Some of the novice bodybuilders are not sure about how to use whey protein effectively. For them, my suggestion would be to drink the whey protein shake right after the workout. Because this is the time when your muscles are exhausted and are in desperate need of protein to rebuild them.
Similar Article: When is the Best Time to take Whey Protein
How to use Whey Protein for Weight Gain
Taking whey protein during breakfast is the best time because this is the time when our body recently woke from rest and our organs are fully efficient to absorb the nutrition. The best formula I would suggest to gain weight is- make a whey protein shake with bananas. It is tastier, and the MFF 100% whey in vanilla just savors the taste buds. (Worth giving a try!)
Drinking the whey protein shake at the end of the day or an hour or two before going to bed also works equally good. Since while sleeping you won't need much of calories, the protein will be used to build the body mass.
Similar Article: How to use Whey Protein for Weight Gain
How to use Whey Protein to Gain Muscle Mass
Some people have the normal weight but it is not visible because their weight is concentrated in bones which gives a lean physique. In this case, taking whey protein before going to bed and a little work out in the morning can be useful.
How to use Whey Protein for Weight Loss
Whey protein also helps to keep your health in check. Taking whey protein shake at the time of breakfast will keep you feel full for longer time. And since, the hunger is managed, you won't feel like dragging yourself towards the junk food or other high calorie food.
Similar Article: Know Everything About: Whey Protein for Weight Loss
How to use Whey Protein Shakes?
Using Whey protein shakes is very simple; just like- Mix it, Shake it, Drink it!
Oh, did you skip reading- how to use whey protein shakes? Just scroll to the above paragraph to know how to make whey protein shake.
How to use 100 Whey Protein?
Different manufacturers make the 100 whey protein with different proportions. I went through MFF 100% whey protein. It is a blend of whey protein concentrate and isolate in the 80:20 ratio. It comes in vanilla flavor, so you can make a protein shake with milk to take with breakfast.
And the steps to take them are already mentioned above.
How to use Whey Protein Isolate?
Well, you can take the whey protein isolate in the same way, as any other whey protein derivative. Again I would suggest you to backtrack to the steps above in case you overlooked!
I hope you found answers to some of your questions, but certainly there are many more.
Isn't it?
Don't be shy, just write down your questions and your suggestions, and we would be happy to answer!